If one of you is ill, he should send for the elders of the church and they must anoint him with oil in the name of the Lord and pray over him.

James 4:14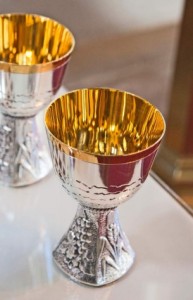 The Anointing of the Sick is intended to strengthen those who are being tried by illness. It is not only for those who are in danger of death, but is also for those facing a serious operation or for the elderly whose frailty becomes more pronounced. (Catechism of the Catholic Church 1511, 1515)
Requesting the sacrament of the sick
Contact Fr Patterson to arrange this Sacrament.
Hospital Visits
Please let the ward staff know if you, or someone that you are visiting in hospital, wishes to be visited by a priest.  They can arrange, through the hospital Chaplaincy team, for a priest who serves the hospital, or who is 'on-call', to visit.